Troubles around Evanescence
As all of you know, I am a big fan of Evanescence, not because they are "in the move" but because of their originality (ah... yes, and I was happy to read here someone linking Evanescence to Enya, whose music was introduced to me by my brother, but that's another story). Undoubtly it could change very fast: after their first album, Fallen, I need more, and... *further* (the classical side would be cool).
Indeed all is not going in the good way: in late october, Ben Moody left the band; Ben was Evanescence's co-founder (composer and lead guitarist) with Amy Lee (composer, vocals and piano). Well, Ben (aka "the void") is not the best guitarist in the world, but it seems to be a very good composer, I mean someone able to glue many influences in songs. A love affair could have been the origin of this departure: there is a rumor about a persistent love relationship (frozen or not...) between Ben and Amy (unfounded?). Ben might not have accepted the new relationship between Amy and Shaun Morgan from Seether (well, I doubt that this guy is the best choice), band which toured with Evanescence (more here, here and here, the second link from Metal Underground . com saying that Amy could sing on next Seether's album, the third talking again of the rumor between Ben and Amy).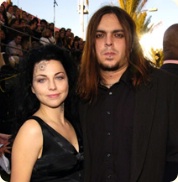 In mid november, at the 2003 American Music Awards, Evanescence made their first appearance without Ben, being replaced by Cold's guitarist Terry Balsamo (at the beginning of this affair John LeCompt, the second guitarist, was handling front guitar):
Evanescence gave their first American performance since founding member and guitarist Ben Moody unexpectedly took leave from the group during its recent European tour (...). Dressed in a colorful poodle skirt, black tank top and sporting flower-shaped tattoos on her forehead and neck, singer Amy Lee led the band through a powerful rendition of "Going Under." During the pre-show, when asked what super power she'd like to have, Lee joked about wanting Wonder Woman's Lasso of Truth because, she said pointedly, she just wants "people to be honest."

You can find photos of Evanescence performing at this ceremony here, on the wonderful Evanescence: Fallen Creatures website.
Evanescence and Cold met on stage but feelings may not be at the top between the two bands (at least between Amy and Scooter, the Cold's singer).
Nevertheless, after having postponed many shows cos of the brutal departure of Ben, the new line-up-ed band seems to be going... on.
On Moody's side, the news are even more surprizing: according to mtv.com, he "volunteered his talents" to Avril Lavigne's staff. He joinded the team of songwriters for her second album, and he might touring with her... or not, according to Yahoo's Launch:
Meanwhile, former guitarist Ben Moody is reportedly working with Avril Lavigne "on a track or two" for Avril's upcoming album, according to a posting on the Avril fan site, Avrilbandaids.com. Unconfirmed reports suggest Moody may also join Avril's touring band.
On Amy's side, Wes Borland (ex-Limp Bizkit) could write songs for Evanescence:
Borland said he is also in talks with Evanescence about producing some tracks for their next LP. "I would like to give it some of that old-world vibe so it sounds like a band of gypsies," Borland said. "I want to give more depth and richness to the guitars, but at the same time make them not as processed and more organic."
If you have time, watch the wonderful video clip of My Immortal, filmed in the gothic quarter of Barcelona, Spain. You can also take a look at the making-of (Behin the Scenes).
For more informations, see [exodus]Evanescence or evanescence.info.

Posted by Jean-Philippe on January 21, 2004 at 08:41 PM 36 Comments, 268 TrackBacks
Filed in Evanescence, metal, music
Post your own
.