La nouvelle Chantal Goya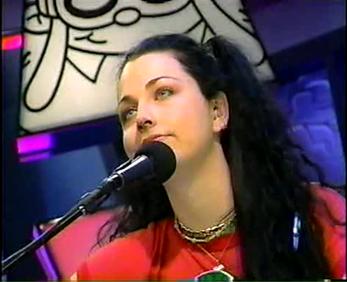 Ca faisait longtemps que je ne vous avais pas parlé d'Evanescence... et bien dans les jours qui viennent, je vous prépare un petit lot de réactions et de commentaires à leur sujet (je dépile mes idées). C'est bizarre, mais j'ai l'impression d'être le seul de leurs fans à être encore lucide sur leur sort.. Le groupe est vraiment dans la mouise, je le dis depuis un moment, et ce que je disais commence à arriver. Par exemple leur dernier single Everybody's Fool semble être un échec, aussi bien sur le plan des diffusions radio que TV (j'y reviendrai dans une autre entrée, car sur ce coup leur management c'est bien gaufré). Comme j'ai écrit tout ce que je pensais sur ce blog, et bien tout cela est daté. On pourra pas me dire : « Oui, mais tu dis ça maintenant, à l'époque tu pouvais pas savoir... ».
Bref, j'étais pas venu vous parler du fait que je suis un grand chroniqueur musical... enfin du moins un des derniers qui soient passionnés. Non, j'étais venu vous présenter un moment complètement ébouriffant qu'Amy Lee nous a réservé sur Cartoon Network dernièrement. Elle a participé a une émission (sûrement pour faire plaisir à son frère, mais aussi pour se rappeler de bons souvenirs) et a même été jusqu'à écrire une ode pour la chaîne, complètement délirante, mais surtout très vraie sur la vie qu'elle mène actuellement. Triste dans l'enfantin. C'est aussi l'occasion de la voir jouer de la guitare, ce qui n'arrive pas souvent. Le passage "Don't make the mistake I made, the rock star's life is sad. We're living on a tour bus, this is... pretty bad." est bidonant !... mais c'est aussi celui qu'on entend avec un pincement au coeur :(
Elle a mentionné cette intervention dans une interview récente :
"(...) I do like to act, but it's more likely you'll find me behind the scenes."
Lee has appeared in front of the cameras again since filming "Everybody's Fool," although she's not quite sure how she feels about it.
"My little brother is 10 and of course he loves Cartoon Network, and it's my favorite channel. So I went to the Cartoon Network and did an interview with a puppet and I wrote a cheesy song on the guitar about Cartoon Network and how much I love and miss it on tour, and it was really stupid," Lee recalled, smiling at the memory. "I kind of regret it, but not really. My little brother had a blast. And we got all kinds of free toys and stuff, too."
The Cartoon Network was hardly a stretch for Lee after "Everybody's Fool," in which she dresses up for various commercials, including donning a pink wig for one in Japanese (...)" (mtv.com : Evanescence's Amy Lee Hopes To Get Into Film, Rages Against Cheesy Female Idols)
Tel que c'est dit, je trouve qu'on comprend mal si le "I kind of regret it" fait référence à son intervention sur Cartoon Network ou au fait qu'elle regrette l'époque de son enfance où elle était assise devant la télé.
Toutes les interventions d'Amy Lee sur Cartoon Network se trouve sur le site du fan club italien (je n'ai mis que la chanson, mais y'a également plusieurs petits sketches à zieuter).
Enfin bon... Amy a un bel avenir en tant que Chantal Goya internationale, si ça carrière de goth-star ne marche pas comme prévue.
Posted by Jean-Philippe on July 04, 2004 at 06:10 AM 47 Comments, 244 TrackBacks
Filed in Evanescence, metal, music
Post your own
.